At B&M Machine Co meeting or exceeding customer expectations is our main goal. We do this by providing high quality service that is built on long term relationships and honest communication. We find that doing this allows us to anticipate problems before they occur and meet customers needs in an efficient and productive manner. Take a look at some examples below that prove this point.
---
Cost vs Price
We have found is that by building relationships, sharing knowledge, and providing service to our customers we are often able to provide the lowest cost service - even if this means we are not always the lowest priced vendor.
What do we mean by cost vs. price? Let's explore that idea a little further. When we talk about price we talk about the quoted price – the number that will be on the purchase order – dollars and cents. When we talk about cost we consider all the different aspects of the manufacturing process that effect the bottom line along the way. Here's how we look at cost: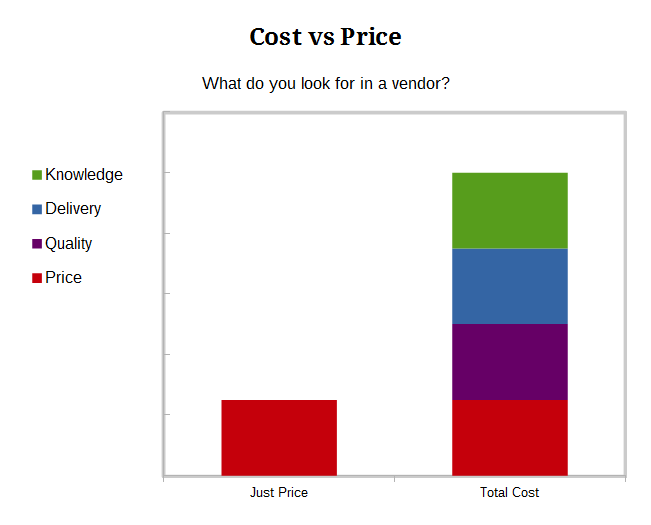 Quality
Quality is a huge driver when it comes to overall cost of a product. Poor quality components can lead to productions delays, increased MRO costs, and product failure. Often times these costs will outweight the inital price of a part completely. We recognize that and put quality at the center of everything we do.
We employ experienced machinists on high precision CNC equipment. We check every part and constantly oversee quality to make sure the parts going out the door are to the print and fit for use to the customer from day one.
Also, when the mistakes happen we stand by our work. If you have an issue with a part you receive from B&M we will work to make it right in the fastest possible fashion.
On Time Delivery
Delivery and deadlines are often make or break for many of our customers and we appreciate that. We respect that we are not an island to ourselves but a key member in a supply chain. On time delivery to our customer is a vital part of successful deliveries to the final customer - which means more business for everyone.
Also, having established, open lines of communication with our customers means that delays will be managed and clear warning will be given. This allows you to better manage your scheduling and reduce the number of costly delays in your supply chain.
In a world of reduced inventory and price consciousness blanket delivery is a key tool for achieving customer success. By providing us with demand forecasts and long term (6 – 12 months) purchase orders we are able to lock in annual prices for our customers and anticipate demand requirements. This reduces costs and improves deliveries. A true win-win for both B&M and our customers.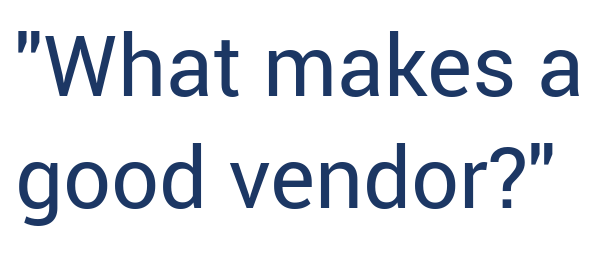 Knowledge
Given changing customer requirements and increased technological possibilities new products are developed every day. Even more importantly existing products are revised and iterated on. At B&M we have years of experience providing feedback and insight into the machining process. Our experience includes taking ideas from the napkin to prototype to production runs. In addition, our deep knowledge of manufacturing has been able to save our customers thousands of dollars by offering design improvements that reduce costs over the long term.
Relationships
At the bottom of everything we do is our relationships with our customers. As a family owned business we pride ourselves on knowing all our customers on a first name basis. More over, we are looking to build a customer relationships that lasts over years and decades.
Building these kinds of relationships makes B&M Machine an integral part of our customers supply chain. It's like having your own machine shop. Want to remake a part that you haven't ordered in ten years? It's likely our ERP system still has the print and purchase order on file. Thinking about redesigning and existing part? We can give you insights that will reduce your overall production costs.
---
We encourage you to learn more about B&M Machine before you decide to work with us. Take a look at our about page to learn about our machine shop or get in touch to schedule a visit to our shop.